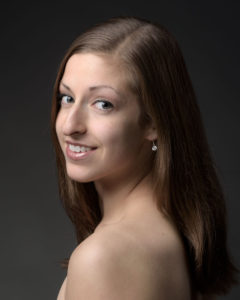 Rosa Prigan is a native of Columbus, Ohio and began her training at BalletMet Columbus at the age of 7. At BalletMet, she participated in the Pre-Professional Program and studied under Susan Dromisky (previously of the National Ballet of Canada) and Dmitri Suslov (previously of the Bolshoi Ballet). Ms. Prigan is a recent graduate of Butler University with a Bachelor of Fine Arts in Dance Performance. She has trained at various summer programs including Ballet Chicago, Cincinnati Ballet, the Bolshoi Ballet Academy Summer Intensive in New York City, and the American Ballet Theatre. Her performance experience has been varied, dancing a number of roles in both classical and contemporary ballets such as The Nutcracker, Giselle, and George Balanchine's The Four Temperaments. Ms. Prigan has danced the Spanish dance in Cinderella, Dryads in Sleeping Beauty, Swan Corps in Swan Lake, excerpts from The Little Hump-backed Horse and Les Sylphides, and the pas de trois from Paquita.
In addition, she was a soloist in Susan McGuire's Little Blue Devil and Truing the Wheel. She had the opportunity to perform works abroad in Poland, Slovakia, and the Czech Republic. Rosa was also a dancer in StreamLines, a project as part of a grant from the National Science Foundation to address environmental issues with Indianapolis waterways. She also contributed choreographically in both years of the project.
Ms. Prigan has choreographed for fellow dancers at the undergraduate level, and was awarded a Collaborative Grant from the Jordan College of the Arts. She was the second recipient of the Director's Award for Choreographic Excellence from Butler University in 2017, and a recipient of the Margaret S. Rosenblith Scholarship in 2016. She has a strong musical background and has played the flute for twelve years, which has given her a basis to collaborate with composers on various projects. In addition to dance and music, Rosa enjoys all the creative and performing arts and is passionate about arts education and sharing art with others.